"If you ever think of stopping, remember why you started"
The sentence Goran's son son told him on the night before Goran started his "77 marathons in 77 days" venture is great wisdom. 
However, Goran never thought of giving up. 
As a person with only 5% eyesight - and only in one eye - Goran knows a thing or two about challenges. 
"There is a huge desire and human need to be an equal member of the community, not to deviate from usual expectations", Goran wrote in his book "Maratonac", "Maratonac", published with the help of the Delta Foundation, which also funded the documentary film "Eyes Wide Open", which you can watch here. 
"Eyes Wide Open" Documentary
In a marathon, as well as in life, everyone runs their own race.
Goran's biggest wish is to better introduce people with disabilities, to let everyone know how much they can do and how they differ from one other. 
"I want to say and show that we have the same abilities as others, that we have similarities, but also differences. Of course, I also want to say that we have flaws. Exactly because we are people", Goran states in his book. 
Goran's desire is pure. Some will say altruistic. 
At the moment when he is preparing for his longest race so far - 365 marathons in 365 days - it is his wish to use the strength of his muscles, the capacity of his own lungs and the strength of his own will, by promoting in the most demanding and extreme way the sporting, creative and intellectual potential of visually impaired people, to call upon:
institutions,
companies,
foundations,
and financial organizations
to support him in this in the form of sponsorship or donation.
Why does Goran Nikolić deserve every kind of support from both the Serbian and the general public?
Because he dedicated his life to others. 
Because he is selfless in his intention to open the eyes of the public that still stigmatizes people with disabilities through his dedicated effort - through blood and sweat he sheds at every race.
Because his achievements speak for themselves.
Within the sports center, Goran successfully established a branch of the
Public Library "Vuk Karadžić"
for the needs of all citizens, primarily students with disabilities and students in recreational classes.
"Iskra" was built by the Delta Foundation. It was the largest investment in the field of social protection in the RS and in the city of Kragujevac in 2016.
The city of Kragujevac is a three-time winner of the newly established recognition of the Office of the Citizens' Protector of the RS, which is awarded to local governments for their contribution to comprehensive accessibility.
Route Kragujevac (Serbia) - Mostar (Bosnia and Herzegovina).
In 2012, Goran ran 10 marathons in 10 consecutive days to bring the two twin cities even closer together, to motivate young people with disabilities, and to further raise awareness of the sports potential of the population.
Based on accurate records, from 1994 to today, Goran Nikolić has run around the Earth more than twice, counting the circumferences both along Greenwich and along the Equator.
Goran Sets a New Guinness' Record!
Goran crossed the 2,310 km long road in 2016 when he broke the Guinness record and became the first man to run 55 consecutive marathons. 
Running across Serbia, Bosnia and Herzegovina, as well as Montenegro - where he ended the venture - Goran Nikolić attracted a lot of attention from the public, both in his native country and the region. 
Among many television reports, we single out this report from Radio Television of Vojvodina. 
In the style of the Hollywood film "Forest Gump", the catchphrase "Run Goran, run!" was used to send Nikolić off on his biggest humanitarian undertaking so far. 
77 Marathons in 77 Days! 
This feat was aimed at collecting the necessary funds to complete the sports hall of the "St. Jovan Zlatousti" Seminary in Kragujevac, and Goran successfully carried it out in distant America in 2019! 
Behind Goran, more than 3,200 km remained"across the pond" as he ended his journey by passing through the gate of the "Nova Gračanica" monastery.
See what the last day of this incredible venture looked like in the following video. 
We live in it. We fight in it. Every person to the best of their abilities. Every person for a cause of their own. 
"Some race for medals, but I think that most people in the marathon, as well as in life, run a race for themselves", Goran wrote in his book. 
However, Goran does not run for himself. 
Together with his friends from the School for Visually Impaired "Veljko Ramadanović", Goran always believed that people with disabilities have capacities, that they deserve a chance, but that chance must be given to them in a different way. With an understanding of their and our problems and in a way that will be acceptable not only to people with disabilities, but also to all our neighbors and fellow citizens. 
Question marks in the world of prejudice raised themselves. 
How to deal with your own physical deficiency? How do you position yourself as a parent whose child has some kind of physical or mental disability, lags behind his peers, or fails to perform certain actions in the same way as others? 
Every story about people with disabilities is actually a story about prejudice," Goran writes in his book. 
"I don't mean to say anything bad. I especially don't want to judge anyone, nor do I claim that these prejudices are always negative. No. It is about the fact that as a society we do not know enough about people with disabilities," he states. 
That is exactly what Goran's cause is.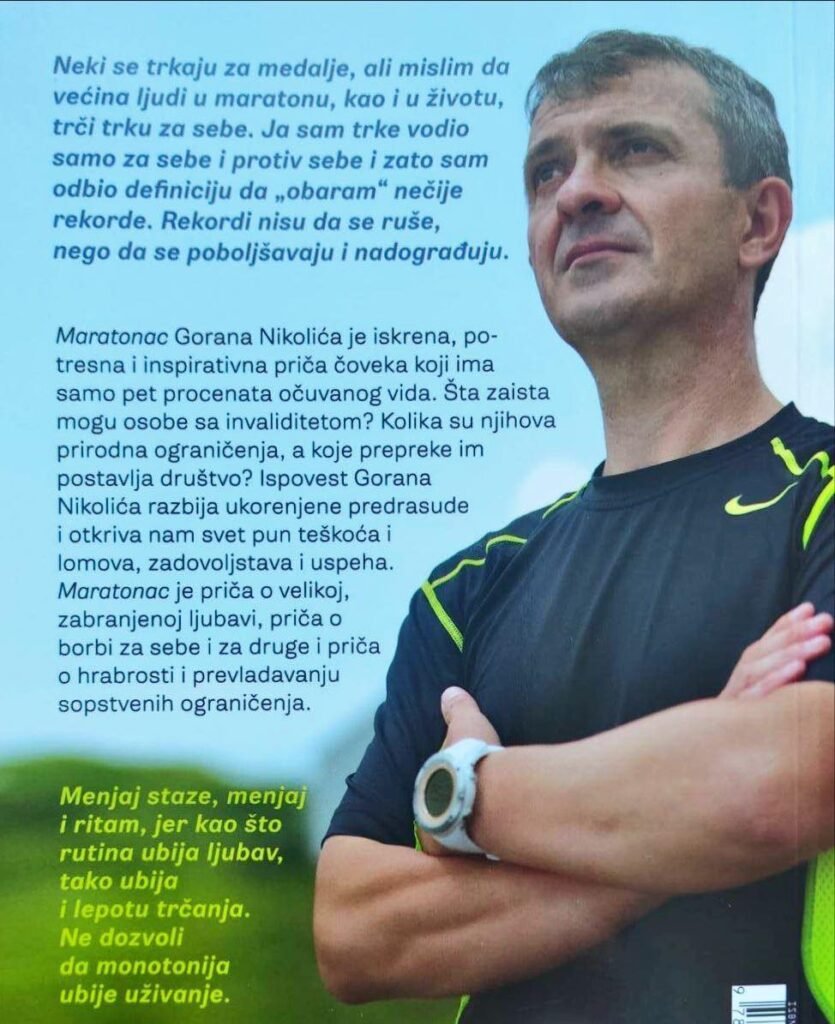 Goran's exploits did not go unnoticed. 
Each of his endeavors was closely followed by the media, which gave Goran's goal importance and value. 
In the sea of media reports, we would like to highlight a few: 
Ultimately, we would like to share Goran's appearance in the "5 minutes With..." special published by "Novosti", where Goran provides an even further insight into his humanitarian work, motives and goals.